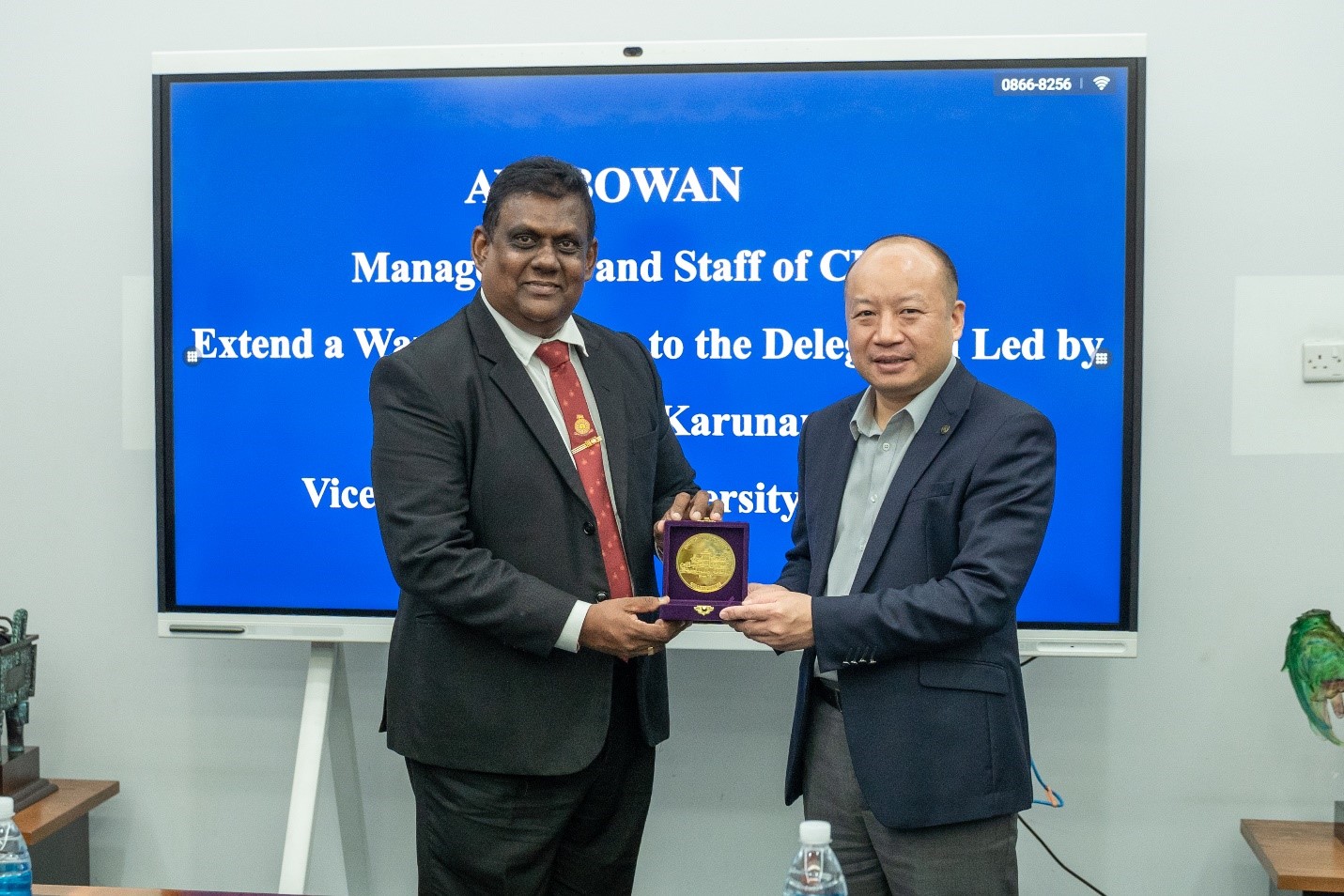 The Vice Chancellor's Visit to CICT Accentuates Deep and Close Public – Private Partnership
The Vice Chancellor of the University of Colombo, Senior Professor (Chair) H.D. Karunaratne, Senior Prof. Lasantha Manawadu Dean Faculty of Arts, Prof. M.P.P. Dharmadasa, Dean Faculty of Management and Finance, Registrar Mr. K. A. S. Edward, Ms. Thanuja Dharmasena, the Bursar, Prof. Chandana Aluthge, Head Department of Economics, and Two Directors Prof. Ma Zhongwu (Chinese) and Dr. Anuththaradevi Widyalankara (Sri Lankan) paid a visit to the Colombo International Container Terminals Limited (CICT) a member of China Merchant Port on 9th May, 2023.
The purpose of the delegation was to seek internship opportunities and possible avenues to open up collaborations between universities and private sector to helps boost job opportunities for graduates. Speaking of its extraordinary capacity in logistics industry, particularly in transportation, logistics, supply chain and storage the delegates believed to they could get more opportunities for undergraduates of the University of Colombo.
Mr. Jack Huang the Director and CEO of the Colombo International Container Terminals and his management staff warmly welcomed the delegates of the Colombo University. Giving an awareness of the CICT including their activities in Sri Lanka, the trading and logistics capacity and its involvement in marine management.
Senior Professor (Chair) H.D. Karunaratne mentioned that visit to the CICT was an important opportunity to cement our ties and foster new links with this increasingly important market for higher education and business. Further he stated that "University-Industry (U-I) Collaborations' are essential at present due to the fast shrinking of world affairs. In the past, partnerships between universities and business organizations in Sri Lanka have been either deficient or downbeat but in recent times more and more organizations and academics have realized that it is important in preparing our graduates for internships. In fact, Mr. Jack Huang emphasized the need of producing high-quality graduates are vital for successful collaboration.
Both parties agreed to sign an agreement to provide internship opportunities for our undergraduates who are learning Chinese language at the University of Colombo. However, this is not limited to students of the Arts Faculty but other students representing faculties like Science, Management and Law will also get more chances to be a part of those leading Chinese companies in the world. The delegation got the opportunity to seek the possibilities for mutual benefits to promote the job opportunities and much more in the future.